Cool-Space® 400 Evaporative Cooler
Ideal for production facilities, outdoor dining and gyms.
Get A Quote
Cool-Space® 400 Evaporative Cooler
Ideal for production facilities, outdoor dining and gyms.
Get A Quote
It's hard to keep your cool when it's too hot to think. That's why we created Cool-Space 400, an evaporative cooler that brings the temperature down in factories, warehouses, outdoor dining areas, gyms, and fitness centers measuring 3,600 square feet (330 square meters) or under. With the self-contained, 46-gallon reservoir, your evaporative cooler will run for an impressive 10 hours without a hose connection for easy-breezy operation.
Suitable for cooling indoor or outdoor use
Quickly cool indoor and outdoor spaces up to 3,600 square feet (330 square meters) by up to 33 °F (18 °C)
Perfect portable evaporative cooler for production facilities, outdoor dining, and gyms
Variable-speed control that lets you pick the temperature
36-inch (91-centimeter) fan diameter with 8-inch (20-centimeter) cooling media
46-gallon (174-liter) reservoir lasts up to 10 hours without hose connection
TIME FOR AN UPGRADE
Have an off-brand fan that can't get the job done? With our trade-up program, we'll give you credit for that "other" fan when you upgrade to an authentic Big Ass Fans product.
Cool-Space 400: Quiet, Efficient, Safe
The quiet, energy-efficient operation of Cool-Space 400 makes it a fan favorite for providing comfort in indoor and outdoor spaces. Every Cool-Space model is also GreenGuard Gold certified to meet rigorous, third-party chemical emissions standards for air quality.
Cooling workspaces not only increases comfort, it increases productivity and safety. Cool-Space 400 cools an impressive 3,600 square feet (330 square meters) by up to 33 °F (18 °C)–keeping everyone cool, comfortable, and moving forward.
Ultimate Cooling Combo: Fans and Coolers
Combining Cool-Space evaporative coolers with Big Ass fans delivers a powerhouse cooling effect that's second to none.
When you pair your Cool-Space coolers with our industrial overhead fans, cold air is distributed throughout your facility.
When used in tandem with overhead fans, Cool-Space coolers provide maximum cooling and coverage, silently delivering comfort and energy savings to your facility without costly A/C use.
Like a Portable Air Conditioner, But Better
When you need versatile comfort solutions, Big Ass Fans always delivers. What can we say, our units are just cooler than off brand options. Cool-Space 400 makes a perfect:
Fitness center evaporative cooler
Evaporative cooler for gyms
Factory evaporative air cooler
Warehouse air cooler
Outdoor dining portable air cooler
Patio cooler for restaurant
Portable evaporative cooler for outdoors
Portable evaporative cooler for business
SpecLab® Custom Airflow Analysis
Our proprietary SpecLab software uses 3D computational fluid dynamics (CFD) to simulate our fans' airflow in your space, giving you an accurate look at our fans' performance before you buy.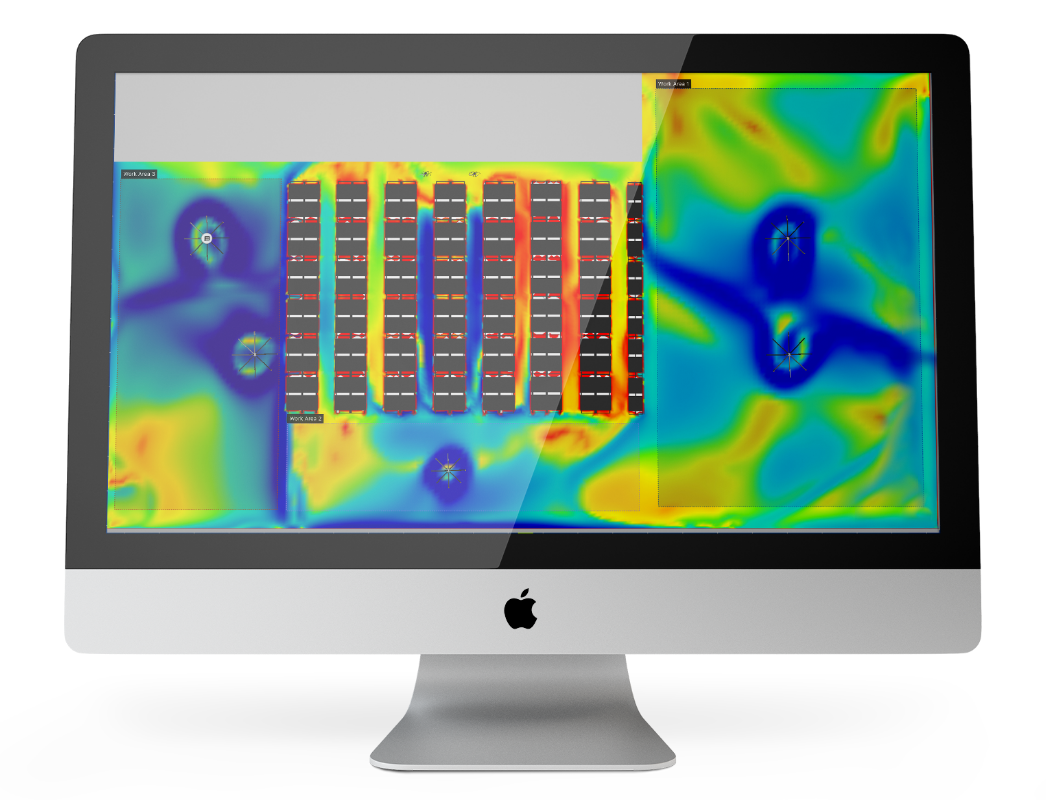 Defeat Extreme Heat
Getting beat down by extreme heat? It's time to upgrade to a Cool-Space evaporative cooler! Take the first step by contacting a Big Ass Fans cooling expert to discuss your cooling needs, or get a risk-free custom quote. Call 1300 244 277 to talk to an airflow expert today.