Looking for a fan that's both a work of art and a money-saving machine? Say hello to Essence, the energy-efficient fan that provides quiet air movement with style that perfectly complements your home or business. Available in diameters from 8 to 14 feet (2.4 to 4.3 meters), Essence is the ideal HVLS ceiling fan for residential and commercial spaces. Find it in use in a wide variety of locations from lobbies, pavilions, and fitness centers to seaside dining and open-air theaters. Essence is the best ceiling fan for large spaces, indoors and out.
Diameter options of 8, 10, 12, or 14 feet
Virtually silent, large-scale airflow
Eight anodized airfoils with winglets and safety restraints
Wet-rated fan
Direct-drive motor for indoor/outdoor use
Superior energy savings
Standard wired wall controller allows for perfect airflow adjustments
Lightweight ceiling fan mounts to bar joists, beams, purlins, and wood frames
Color customization, optional bluetooth wall control, and integrated LED kit available
Up to 10-year warranty
Airflow Meets Artistry
Built for quiet operation and good looks that match any aesthetic, it's the essential commercial HVLS ceiling fan you didn't know you couldn't live without.
Supreme Safety
Safety is the utmost concern with every Big Ass Fans product. That's why Essence boasts the safety features you want in a beautiful, efficient airflow package.
Eight anodized airfoils with winglets
Durable, Grade 8 hardware
Optional guy wires for additional support
Installation Made Easy
No matter if you choose to install Essence yourself or use our professional installation service and support, installing an HVLS ceiling fan has never been easier.
Lightweight construction
Mounts to common ceiling structures
Professional installation available for commercial and industrial applications
Energy Efficient Fan
Cools in summer and circulates heated air in winter
Optimizes HVAC performance
Cuts energy costs by as much as 30%
Versatile Fit for Your Space
With diameter options from 8 to 14 feet (2.4 to 4.3 meters) and a wet-rated fan motor, Essence is the perfect ceiling fan for areas needing quiet, large-scale airflow, indoors or out.
Ready to Match Your Style
Designed for showroom-quality beauty and crafted for real-world conditions, Essence has available color customization to match your decor or company branding. With infinite custom color options, the sky's the limit when it comes to color-matching your decor.
Essence HVLS Ceiling Fan with Light: Advanced Lighting Options
Essence's optional dimmable LED kit offers 5,000 lumens and two color temperature options to give you complete control over your facility's lighting. Or, opt for UV-C—our ultraviolet light technology proven to kill pathogens.
Virtually Silent Performance
When you want premium quality and good looks in a high volume, low speed (HVLS) ceiling fan, look no further than Essence. It's quality design and virtually silent performance make it the most attractive HVLS ceiling fan on the market.
Control Options
Choose from Essence's standard wired wall control or available wireless remote to easily adjust the fan's speed. Need more options? The premium BAFCon upgrade offers BMS integration, automated modes, and synchronization of up to eight Essence fans from a single, intuitive touchscreen.
SpecLab® Custom Airflow Analysis
Our proprietary SpecLab software uses 3D computational fluid dynamics (CFD) to simulate our fans' airflow in your space, giving you an accurate look at our fans' performance before you buy.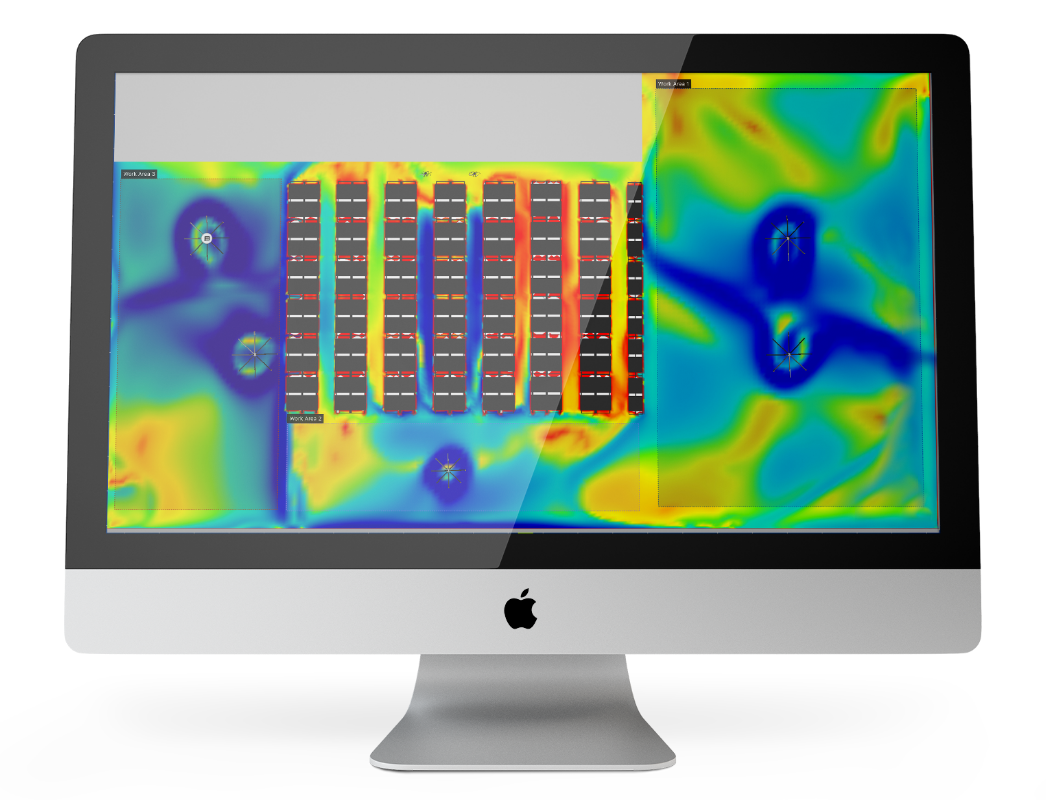 Annual Preventive Maintenance
Big Ass Fans' Preventive Maintenance Program provides a comprehensive range of professional services to ensure your fans' peak performance year after year. While you focus on running your business, we'll conduct a 30-point inspection and cleaning of each fan—and we'll provide detailed service records for your fan's warranty.
What Our Customers Say About Essence
---
"When we set out to build our first climate-controlled events space back in 2018, we had lofty goals for energy efficiency, and Big Ass fans were on our list from Day 1."
Crowd-Pleasing Style and Performance
With aesthetically-pleasing design and premium performance, Essence HVLS ceiling fan is the perfect choice for your indoor or outdoor airflow needs. Need a quote or have questions about Essence? Give us a call to discuss your comfort solution options or get a custom quote today. Our airflow experts will blow you away!