Sweltering temperatures run and hide at the sight of this evaporative cooler. That's right—oppressive heat has met its match. Cool-Space 500 delivers cooling power on a large scale for up to 6,500 square feet (600 square meters). Capable of reducing environmental temperatures by up to 33 °F (18 °C), this cooling machine provides a much-welcomed cool breeze for sprawling spaces, indoors and out.
Suitable for cooling indoor or outdoor spaces
Quickly cool indoor and outdoor spaces up to 6,500 square feet (600 square meters) by up to 33 °F (18 °C)
Perfect portable evaporative cooler for production facilities, warehouses, service bays, and stadiums
Variable-speed control that lets you pick the temperature
Low-water shutoff for pump longevity
50-inch (127-centimeter) fan diameter with 8-inch (20-centimeter) resin-treated cooling media
64-gallon (242-liter) reservoir lasts up to 10 hours without hose connection
COOL DOWN, TRADE UP
Safeguard your investment with a free site visit through our SWAT program. You'll get expedited service, expert product recommendations, and access to our trade-up program that gives you credit toward an authentic Big Ass Fans product.
Cool-Space 500: Quiet, Efficient Evaporative Air Cooler
When you need to cool a lot of people down in a large area, 500 is the easy choice. Its efficient design allows you to fill the large 64-gallon reservoir with any standard garden hose or portable water supply tank for up to 10 hours of uninterrupted cooling on a single fill. Cool-Space evaporative air coolers make it easy to keep your commercial or industrial spaces safe and comfortable.
The innovative cooling media offers a bigger surface area and thermosetting resin coating for
strength and prevention of algae growth. The onboard control panel and remote control offer flexible cooling controls to keep your comfort solutions as worry-free as possible. Every Cool-Space cooler is also GreenGuard Gold certified to meet rigorous, third-party chemical emissions standards for air quality.
Ultimate Cooling Combo: Fans and Coolers
Combining Cool-Space evaporative coolers with Big Ass fans delivers a powerhouse cooling effect that's second to none.
When you pair your Cool-Space coolers with our industrial overhead fans, cold air is distributed throughout your facility.
When used in tandem with overhead fans, Cool-Space coolers provide maximum cooling and coverage, silently delivering comfort and energy savings to your facility without costly A/C use.
Cool-Space 500: Smart Cooling
Cool-Space 500 portable evaporative coolers offer the additional convenience of occupancy sensors that turn your cooler off to save energy if no movement is detected for five minutes near the cooler. For additional energy savings, you can use the timer setting to automatically turn your evaporative cooler off after a specified amount of time.
Cool-Space 500: Better Than Any Portable A/C Unit
Cool-Space 500 is the biggest evaporative cooler Big Ass Fans makes, delivering our industry-leading safety, quality, and performance you've come to expect. The Cool-Space air cooler has all the features you need, optimized for efficiency and portability.
Quiet, efficient variable-speed motor
Thick, resin-treated cooling media
Uses standard 110 V power supply
Cord wrap for easy portability and storage
Four locking casters for maneuverability
Remote control for easy cooling options
Cooling media resists algae growth
Smart occupancy sensor for energy efficiency
64-gallon internal water reservoir supplied by standard garden hose
Suitable for indoor and outdoor spaces
Up to 5-year warranty (varies by region, click here for details.)
Versatile Indoor/Outdoor Evaporative Cooler
Cool-Space 500 turns hot, humid environments into cool, comfortable spaces with impressively quiet energy-efficient operation—even outside. Cool-Space 500 is ideal for use as a:
Large warehouse evaporative cooler
Service bay evaporative air cooler
Evaporative air cooler for stadiums
Evaporative cooler for large factory
Large warehouse evaporative cooler
Air cooler for large outdoor events
Evaporative cooler for large workshops
Event venue evaporative cooler
SpecLab® Custom Airflow Analysis
Our proprietary SpecLab software uses 3D computational fluid dynamics (CFD) to simulate our fans' airflow in your space, giving you an accurate look at our fans' performance before you buy.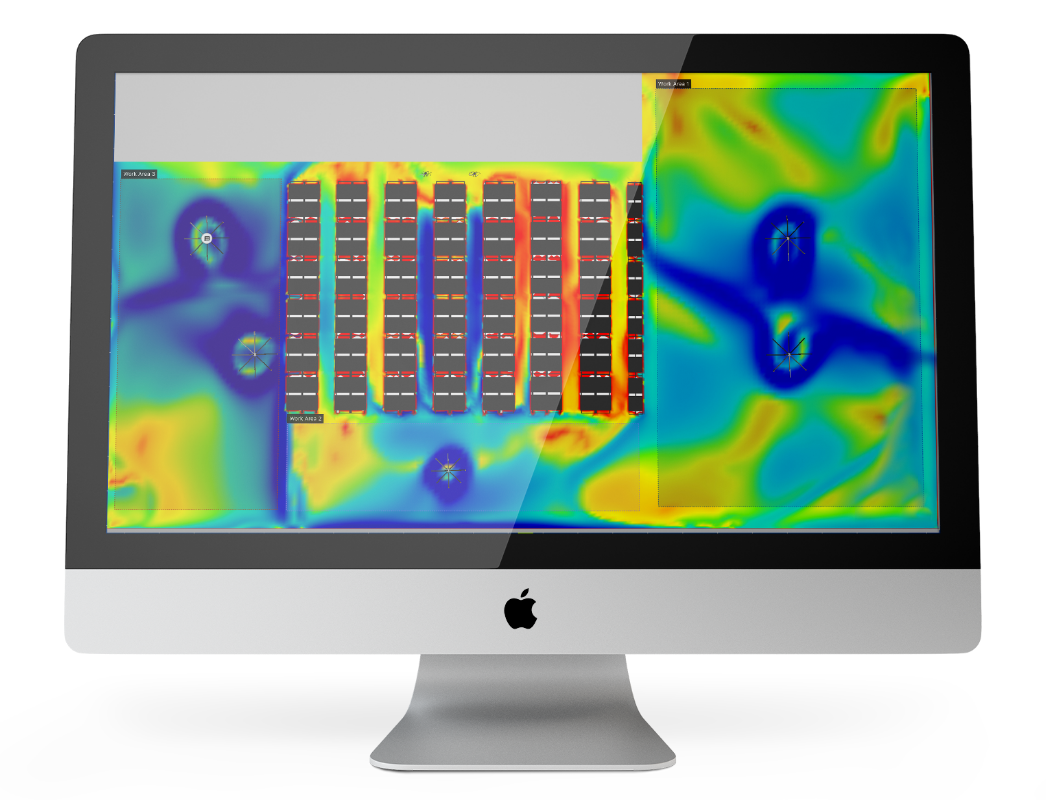 Defeat Extreme Heat
Getting beat down by extreme heat? It's time to upgrade to a Cool-Space evaporative cooler! Take the first step by contacting an airflow expert to discuss your cooling needs, or get a risk-free custom quote. Call 877-244-3267 to talk to an airflow expert today.