The best fans on earth deserve the best installation and service programs on the planet.
Choose Big Ass Fans' Certified Installation, and get the job done quickly, correctly, and safely – the first time around!
EXPERTISE
A nationwide team of fully-licensed, Big Ass Fans-certified installation professionals.
Dedicated customer service from the industry's most knowledgeable fan experience experts.
Convenience
Fast, flexible, and friendly service scheduled at your convenience to reduce business interruptions and workplace downtime.
Project management assistance to help coordinate your installation from start to finish.
CONFIDENCE
Guaranteed installation and service work from a company that has professionally installed over 100,000 fans.
Electrical warranty upgrade when customers use our certified experts for installation and service.
Trade-up Program
Take it down. Trade it up.
Upgrade your employees' comfort, productivity, and safety when you take down your off-brand fan and trade up to a fan from Big Ass Fans, the industry's leader in making the most innovative big fans in the business.
Get credit for trading up your off-brand fan for a Big Ass Fan.
Extended HVLS fan warranty on certain models.
Over-the-phone consultation and scheduling available.
Preventive Maintenance
Even the best-made fans need a little TLC from time to time.
Our Preventive Maintenance Program takes the pain out of keeping your fan in perfect working condition, so you can keep your people comfortable, productive, and safe for years to come.
Annual site visit from a certified expert includes a comprehensive inspection and 30-point cleaning.
Dedicated project management from Big Ass Fans' headquarters.
Promptly communicated service and maintenance records.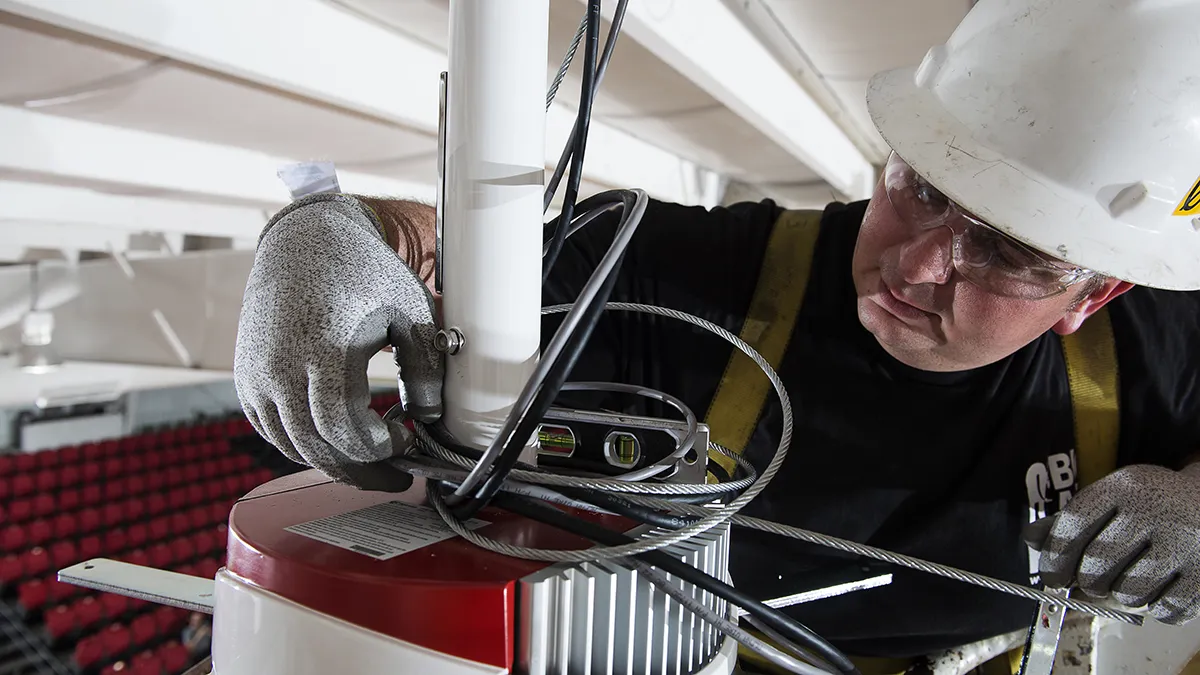 Safety
We're serious about safety. Seriously.
When you buy a Big Ass Fan, you're not just getting the best fan in the business, you're also getting built-in safety features that blow away the competition.
Our big fans include a patented Airfoil Restraint System with heavy-duty nylon straps that extend from the hub plate to the winglets and are secured with 12-gauge steel clamps to prevent blade separation if critical impact occurs.
IP56- or IP55-rated motor packages prevent failure in extreme industrial environments.
OSHA-compliant directional fans are built with galvanized steel cages to withstand falls and contact with foreign objects.
"We would love to do a "shout out" to our installer – he was terrific! His first visit to review the site was timely, he communicated what he would be doing and scheduled the installation appointment. We're VERY pleased with the turn-key service."
– Matt G.