Extreme temperatures won't slow you down with Powerfoil 8 on your side (and your ceiling.) We designed this durable HVLS ceiling fan with industrial-grade components for heavy-duty use and patented airfoils for quiet operation. Unlike other ceiling fans, Powerfoil 8 excels in tough environments as the industrial workhorse you need. Each Powerfoil 8 is factory tested prior to shipping and backed by a 7-year mechanical and 3-year electrical warranty, ensuring it will deliver comfort solutions for years to come.
Up to 24 feet diameter
Eight aluminum airfoils enhanced for safety
Industrial-grade motor and double lip-sealed gearbox
Touchscreen controls
Oversized hub system machine cut to evenly distribute load
Fire control panel integration
Year-round energy savings
Unrivaled 7-year mechanical and 3-year electrical warranties
COOL DOWN, TRADE UP
Safeguard your investment with a free site visit through our SWAT program. You'll get expedited service, expert product recommendations, and access to our trade-up program that gives you credit toward an authentic Big Ass Fans product.
Take Control
This industrial fan isn't just high-powered—it's also high-tech. Easily control Powerfoil 8 with the included resistive touchscreen wall control, add it to BAFCon or to your Building Management System to group and control multiple fans from one place. You can even integrate Powerfoil 8 into your facility's fire suppression system or use it with the building automation system you already use.
Industrial-Grade Motor and Gearbox
Inline, helical-cut gears for efficient, reliable and durable operation
Ball bearings designed to accommodate hanging and thrust loads
Double lip seals to prevent any potential oil leakage
Vented and lubricated for life with synthetic oil
UPGRADE TO BAFCON FOR FACILITY-WIDE INTEGRATION
Powerfoil 8 comes standard with an intuitive, touchscreen, wall-mounted control, but when you want to integrate multiple Big Ass fans into your facility's system, you want BAFCon. This upgraded controller allows you to connect fans to a single touchscreen control for easy operation, schedule fan run times and prevent changes with the password protection.
Upgrading to BAFCon also allows you to integrate your commercial fans with your building management systems (BMS) using Modbus RTU, BACnet, and 0-10 V protocols. With BAFCon, you get the convenience of centralized control combined with safety, and energy-efficiency. With advanced technology from Powerfoil 8 , comfort is always close at hand.
SpecLab® Custom Airflow Analysis
Our proprietary SpecLab software uses 3D computational fluid dynamics (CFD) to simulate our fans' airflow in your space, giving you an accurate look at our fans' performance before you buy.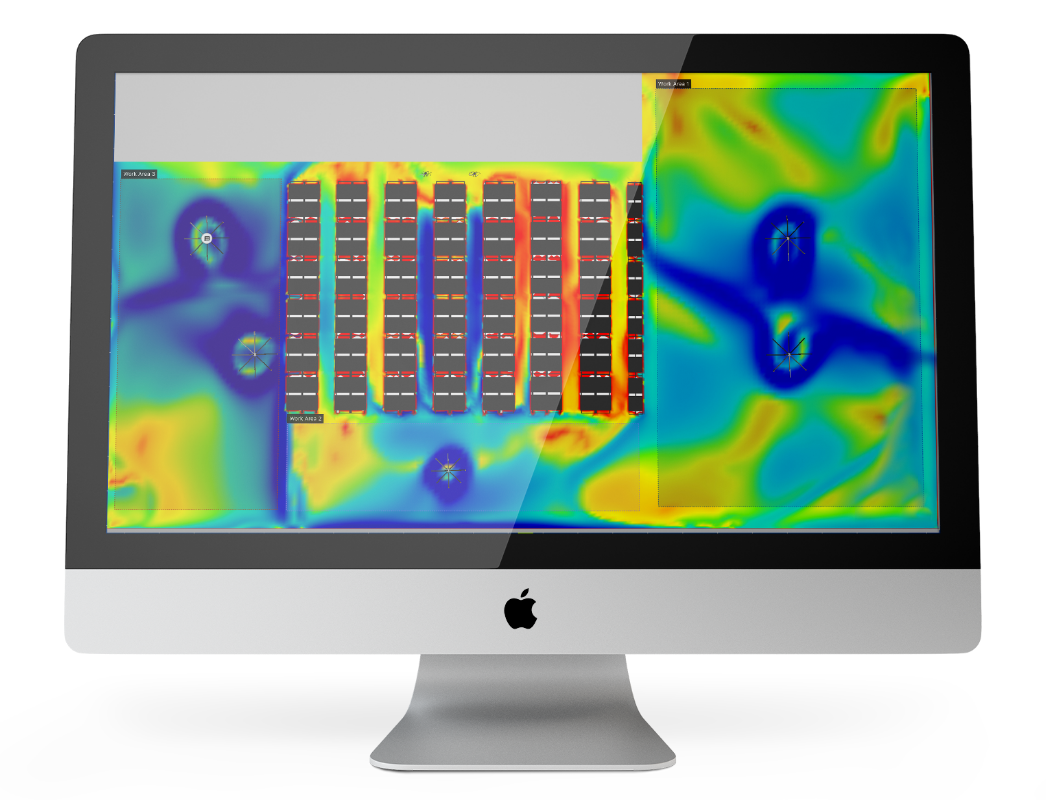 Make it the Perfect Fan For Your Space
Powerfoil 8 comes standard with amazing features, but can be upgraded to provide customizations to meet the needs of your unique industrial fan applications.
Get Some Circulation Going
Upgrading to Plus Hybrid Airfoils allows you to angle airflow coverage over obstructions for precision cooling where you need it. Like an airplane's wing design allows it to fly, our aerodynamic airfoil and winglet designs enhance both energy efficiency and airflow by eliminating turbulence at the airfoil tips.
Factory-Certified Installation
Big Ass Fans certified professionals are waiting to install your industrial overhead fans so you don't have to worry about clearances, wiring, or any of the technical details. Call today to get your factory-certified installation of Powerfoil 8 started.
What
Powerfoil 8

Fans Have to Say
---
"Summers down here can be tough. Before buying Big Ass Fans , there wasn't much we could do about the heat, but this summer has been a different story. The fans help a lot and are worth every penny."
Owner, Round Rock, Texas
Magic 8 Ball Says…You Need This Fan!
…and your teams and your animals agree! To create a custom comfort solution for your space that maximizes efficiency and keeps everybody happy, call 877-244-3267 to speak with an airflow expert. We guarantee you'll be blown away!