Raising the bar on high-tech fans, Powerfoil D is our premium direct-drive fan. We built this HVLS fan from the ground up for industrial and harsh environments, and its IP66 rating means it's able to withstand harsh elements like dust and water. Purposefully engineered to transform the way people feel and work within your space, Powerfoil D takes on hot, gritty conditions with ease and has the specs to excel in any facility where comfort and quiet are valued.
Diameter options from 8-24 feet
Six patented airfoils with winglets
IP66 rating for indoor or outdoor use
15-year mechanical warranty; 7-year electrical (extended warranty available)
Powerful Neodymium magnet motor provides virtually silent fan operation and optimum efficiency
200-277 / 338-480 multi-phase VAC options
COOL DOWN, TRADE UP
Safeguard your investment with a free site visit through our SWAT program. You'll get expedited service, expert product recommendations, and access to our trade-up program that gives you credit toward an authentic Big Ass Fans product.
With Industrial Fans, Safety is Always First
Here at Big Ass Fans , we live and breathe industrial conditions, so we know the need for products that promote and maintain safe operations in tough environments. That's why no other industrial fan has more redundant safety features than Powerfoil D.
Durable Grade 8 hardware and no critical exposed welds for fail-safe connections
Two-set safety cable system made from aircraft-grade galvanized steel
Steel retainers and Airfoil Restraint System for robust hub and airfoil security
Built-in accelerometer for automatic fan shutdown upon impact or if a shift in building structure is detected
Fire suppression system integration for automated safety
The patented Airfoil Restraint System suspends your fan's airfoils in the event of severe impact damage. Featuring durable nylon straps that extend from hub to winglet, the Airfoil Restraint System is standard on 20- and 24-foot models (available upon request for smaller diameters) and keeps people, products, and property out of harm's way–because industrial safety is always the first priority.
For 20 years,
Big Ass

industrial fans have set the standard for powerful, efficient airflow that transforms uncomfortable facilities and lowers overhead costs. We led the way with direct-drive technology 10 years ago; now we're pacing the field with

Powerfoil D

, the only direct-drive overhead fan purpose-built for harsh industrial conditions. In the hot, dusty environments that put competitors' fans out of commission,

Powerfoil D

thrives with cool, durable operation.
Powerfoil LED
Powerfoil D's ultra-bright and fully dimmable LED upgrade outshines the competition and makes a visible difference in any environment. It's no secret that workers in well-lit facilities are safer, happier, and more productive.
Industrial Power, Quiet, and Comfort
Powerfoil D has the size and muscle to create high-volume airflow, but it's not all brawn. Its Neodymium magnet motor runs quietly and with incredible efficiency, so there's no mechanical noise to distract people in your space. The airflow from Powerfoil D makes occupants feel up to 10 °F (6 °C) cooler in summer. In winter it optimizes energy efficiency and comfort by gently recirculating the heated air trapped at the ceiling back down to people at the ground floor.
Versatile and Customizable Industrial Fan
We purpose-built Powerfoil D for industrial spaces, but its feature-rich design is a great match for nearly any commercial or public application. Its sleek aesthetic and virtually silent operation are perfect for restaurants, retail spaces, fitness centers, and outdoor venues. A wide range of diameters and mounting options make it great as a retrofit or for new construction, while its static output shaft supports a variety of functional attachments.
Other Optional Features:
BACnet adapter
Mounting kits for solid beams and purlins
Extended warranty
Advanced controller options
Touchscreen Simplicity
Powerfoil D is pre-programmed to integrate with your fire suppression and building automation systems (0-10 VDC, Modbus standard), so there's no time-consuming setup. Just mount the fan's digital, variable-speed wall controller to a standard junction box with a Cat5 cable and you're up and running. A resistive-touchscreen makes it easy to turn your fan on or off, change speed, and set password protection.
SpecLab® Custom Airflow Analysis
Our proprietary SpecLab software uses 3D computational fluid dynamics (CFD) to simulate our fans' airflow in your space, giving you an accurate look at our fans' performance before you buy.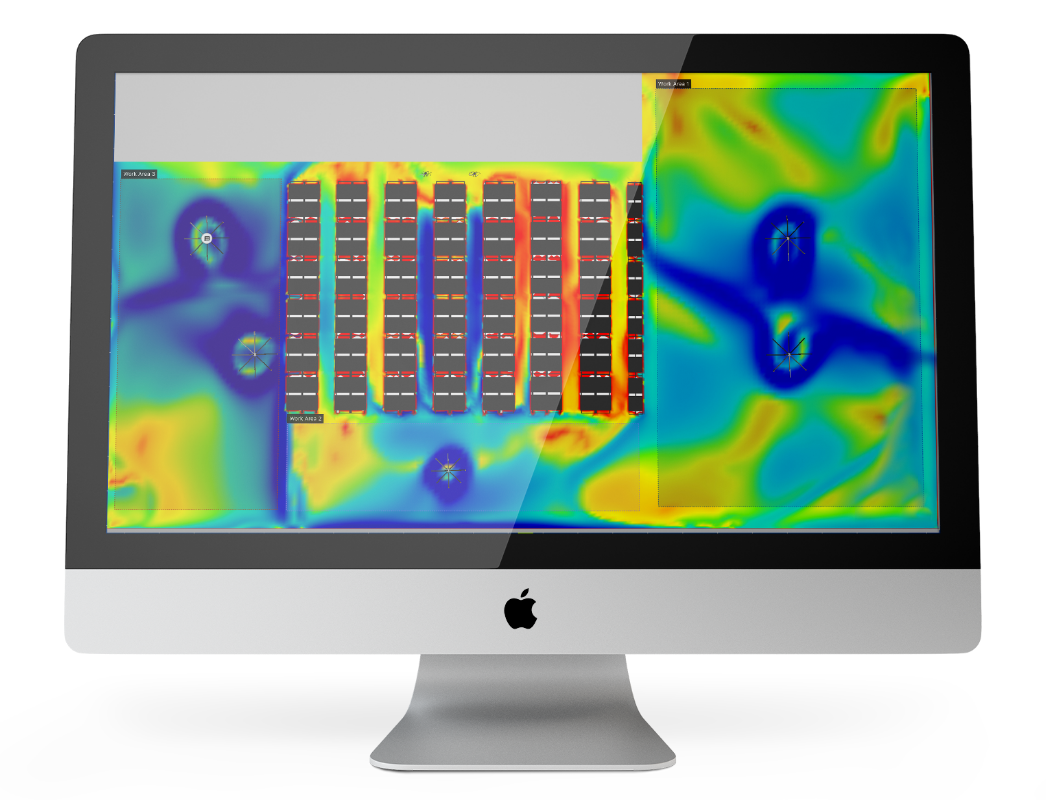 BAFCon

Controller for BMS Facility Integration
LED-backlit touchscreen
Group control for up to eight fans
Integrated SmartSense™ with automated seasonal modes
Multi-level password protection
French and Spanish language capabilities
Onboard fan diagnostics and troubleshooting
Dewtect
Specialized to detect and mitigate moisture
Can work in conjunction with other controls
Large color touchscreen with range of auto and manual fan controls
Helps eliminate safety risks and product damage caused by condensation, mold, etc.
Auto-adjusts fan operation based on real-time data from environmental sensors
Cool your people safely and efficiently.
For a custom 3D Comfort Analysis that shows what Powerfoil D can do to increase comfort in your space, give us a call at 877-244-3267. An airflow expert is ready to answer all your questions and provide a custom quote to cool your facility.