Sidekick®
The most advanced barrel fan ever created.
Do you hear that? That's the quiet whir of the most durable barrel fan ever created. Powerful and highly portable, Sidekick provides more airflow than any other 48" barrel fan on the market. If you want to take it on the go, it's sized to fit through any standard doorway thanks to swivel casters that make Sidekick easy to push. This energy-efficient directional fan also provides cooling comfort quieter and more reliably than any other fan in its class. Plus, its IPX5 rating means you can experience Sidekick's premium performance indoors and out.
Buy Online
Powerful airflow from six airfoils, engineered for efficiency
Take it anywhere—it's on wheels! (Technically, it's on 2 fixed casters and 2 swivel casters that lock in place)
Quiet performance thanks to a permanent-magnet motor
Adjustable speed dial puts you in control
Arrives pre-assembled for easy plug-n-play
Indoor and outdoor ready with an IPX5 rating
Impact-resistant, open frame
Color options: available in standard Black & Yellow and Midnight Black
COOL DOWN, TRADE UP
Safeguard your investment with a free site visit through our SWAT program. You'll get expedited service, expert product recommendations, and access to our trade-up program that gives you credit toward an authentic Big Ass Fans product.
The Industrial Drum Fan that keeps it cool and looks cool
Sidekick provides optimal performance in a sleek, portable design. With an easy push/pull handle and locking swivel casters, Sidekick is perfect for applications that call for energy-efficiency and quiet operation.
THE BEST BARREL FAN FOR MAXIMUM AIRFLOW
Six sleek, durable airfoils for maximum cooling and ventilation
Powerful airflow system with variable speed control
Card Design
Smaller, lighter, and more powerful than any other fan motor in its class
100% passive cooling keeps operating temperature low and efficiency high
Brushless DC motor further reduces friction and energy loss
The Drum Fan With All the Features
OSHA-compliant steel screen barrel fan with HDPE shroud
4 caster—two of which swivel for easy maneuverability and lock in place for safety
12-foot power cord with plug-and-play capability
IPX5 rating for indoor and outdoor use
SpecLab® Custom Airflow Analysis
Our proprietary SpecLab software uses 3D computational fluid dynamics (CFD) to simulate our fans' airflow in your space, giving you an accurate look at our fans' performance before you buy.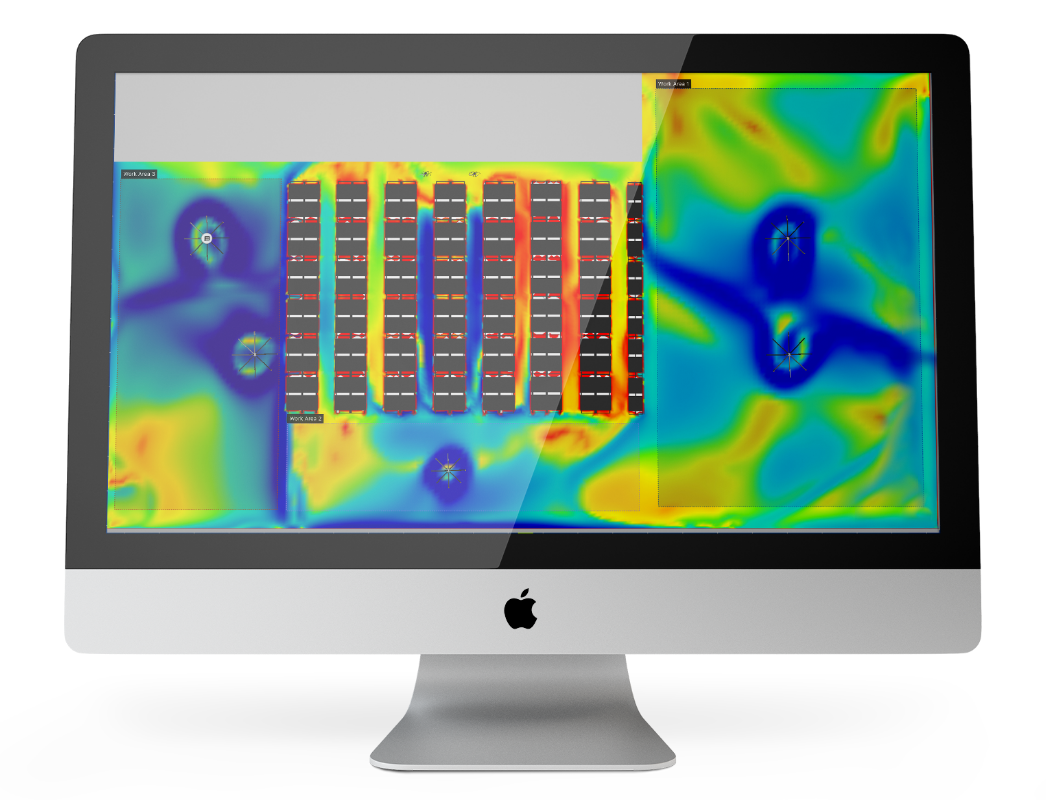 What Our Customers Say About Sidekick
---
"The Sidekick helps a great deal that the fan is quiet while running so as not to interfere with normal communications between Team members."
Electrical Operations Team Manager | WWT Corporate Properties
Barreling Over the Competition with Superior Design and Function
This portable fan ranks top of its class in every aspect of performance, from ease of use to unmatched airflow and quiet operation. Thanks to the six glass-filled nylon airfoils powered by our patented variable speed control, you get the perfect breeze every time. When you need portability, Sidekick steps up in style with its easy maneuverability and plug-and-play preassembled delivery.
Quiet Drum Fan—It's Not An Oxymoron
When you need a fan that won't drown out your podcasts or steal the spotlight at an acoustic concert, Sidekick is the obvious choice. Engineered with a vented shroud to reduce noise, and a six-airfoil design, Sidekick provides consistent airflow without sounding like a helicopter. And you get quiet, controlled airflow every time.
Unrivaled Warranty
Your Big Ass fan is built to last. But in the unlikely event that yours isn't operating like it's supposed to, Sidekick is under a 3-year warranty. Depending on our expert recommendation, we'll repair, replace, or refund your fan for no cost to you. The best part? We handle all warranties without redirecting you to component manufacturers. We make it, we sell it, we install it and we guarantee it.
World-Class Customer Service
At Big Ass Fans, we're not just the industry leader in airflow—we also set the standard for supporting our customers after they make a purchase. Our airflow experts are here to help you with any questions that arise during product selection and operation.
Take Your Airflow On the Go
Call our airflow experts for help with all your fan-related questions or to find out if Sidekick is the right choice for your airflow needs. Call 877-244-3267 to talk with a Big Ass Fans expert to get a quote—our customer service will blow you away.