When you're dealing with a large space and oppressive heat, AirGo comes to the rescue and goes where you need it to. It's the only 8-foot mobile fan on the market, and it has the same high-volume, low speed technology as our iconic ceiling fans. Providing ultimate airflow in even the most stuffy of spaces: AirGo is a fan-favorite for outdoor sporting events and in large, industrial settings like factories, warehouses, hangars, and workshops.
Superior air movement with variable speed control
OSHA-compliant cage
Easy 360-degree adjustment with lockable positions
All-Terrain option makes portability a breeze
Locking swivel casters allow for optimal maneuverability
Indoor/outdoor operation for cooling that goes anywhere
Washdown-ready construction for easy cleaning
Quiet, efficient DC motor fan with variable speed control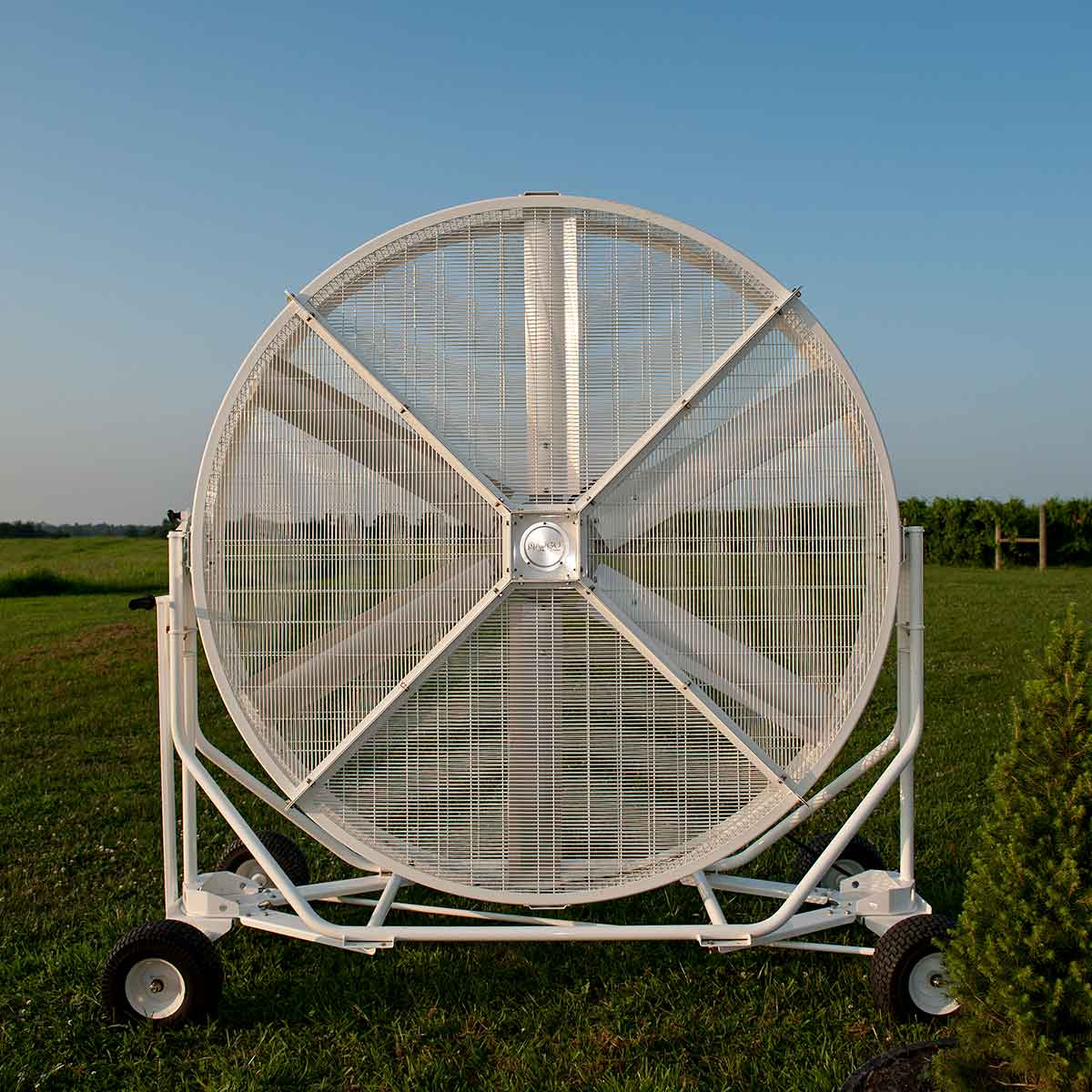 AirGo Anywhere with All-Terrain
AirGo's optional All-Terrain package lets you take it to places no fan has gone before—both indoor and outdoor. This upgrade offers oversized, foam-filled wheels, a wider base for increased stability during transportation and four-wheel steering for easy portability over uneven terrain. You won't waste your time changing flats, monitoring tire air pressure, or getting stuck in the mud.
Passes the Maneuverability Test
You could practically pass the parallel parking portion of a drivers test with AirGo. Because AirGo is designed to be moved by one person it delivers maximum airflow with minimum hassle. (Even if you're normally all thumbs!) Once positioned, the locking casters hold your portable fan in place.
The Factory Fan With Easy Operation
AirGo isn't just adored for its rugged good looks; it's also powerful beyond belief.
Direct airflow exactly where needed with 16 selectable positions, allowing for a full 360 degrees of angle adjustments
Heavy-duty locking swivel casters that operate independently for exceptional durability and mobility
Energy-efficient, direct-drive motor with an precision speed control dial, ensuring you get exactly the amount of air you need
Gentle Giant
With our patented HVLS technology, this commercial fan impressively delivers airflow half the length of a football field, yet is quiet enough to carry on a conversation directly in front of the fan.
Built For Safety
AirGo's OSHA-compliant, slim-line cage exceeds safety standards and keeps hands safe from the power of the airfoils. While the AirGo is aptly named when you need it to stay in place, the pull-and-insert mechanism keeps the fan cage locked in your desired position.
AirGo for Any Application
Wondering if AirGo is right for your space? Here's the short list of the roles AirGo can play:
Warehouse cooling fan
Aviation hangar fan
Automotive industrial fan
Event venue fan
Outdoor wedding fan
Party fan
Sporting event fan
Industrial shop fan
Outdoor concert fan
Festival fan
Industrial fan
Commercial fan
Construction site fan
Livestock fan
Factory fan
AirGo Technical Specs
If you're the type of person who loves comparing technical details, we think you'll be impressed with AirGo.
25-foot (7.6-meter) cord
Covers approximately 6000 sq ft (557 sq m) with superior air velocity
Ultra-durable 8-foot (2.4-meter) steel frame
Full 360° tilt with 16 lockable positions to direct airflow
110–125 or 200–240 single phase VAC electrical
Powerful airflow provides coverage up to 120 ft (37 m) away
Only 64 dBA at maximum operating speed (below OSHA noise-level threshold)
Weighs in at 450 lbs. (204 kg) for easy portability
IPX5-rated for indoor and outdoor use
Up to five-year warranty
Customize Your AirGo's Color Scheme
You can choose from our nine custom-color options or select your own color to deck out your fan in style—from valor red to gunmetal gray and royal blue. Or, you can choose your own color to match your brand, and we'll paint it.
Download the full AirGo spec sheet: AirGo, AirGo (Español), AirGo (Français).
Superior Coverage and Support
Unrivaled Warranty
Your Big Ass Fan is built to last. But in the unlikely event that yours isn't operating like it's supposed to, AirGo is under a 5-year warranty. Depending on our expert recommendation, we'll repair, replace, or refund your fan for no cost to you. The best part? We handle all warranties without redirecting you to component manufacturers. We make it, we sell it, we install it and we guarantee it.
What Our Customers Say About AirGo
---
"You couldn't get AirGo and Black Jack out of that hangar if you tried — our restoration guys would stop you. They love those fans."
Executive Director, Pacific Aviation Museum
Get Your Airflow on the Go
Our airflow experts are ready to create a custom recommendation for efficient, cost-effective comfort in your space. Call us at 877-244-3267!