When it comes to productivity, hot, humid working conditions may be your worst enemy. That's where Cool-Space quiet evaporative coolers save the day by delivering energy-efficient cooling to keep your working environments safe and comfortable. Cool-Space 300 evaporative coolers lower the temperature for up to 1,200 square feet (110 square meters) quickly and quietly thanks to the powerful direct-drive fan technology with internal water supply and saturated cooling medium.Turn it on and let Cool-Space lower the air temperature of your space by up to 33 °F (18 °C).
49 inches (1245 mm) tall
18-inch (46-cm) fan diameter, 8-inch (20-cm) cooling media
Great for workshops, garages, and studios up to 1,200 sq ft (110 sq m)
GreenGuard Gold-certified cooling media
Variable-speed control
16-gallon water reservoir lasts for 4 hours on a single fill
Cool-Space 300 The Feature-Packed Evaporative Cooler
Quiet, efficient variable-speed motors
Thick, resin-treated cooling media
Uses standard 110 V power supply
Internal water reservoir supplied by standard garden hose
Suitable for indoor and outdoor spaces
Up to 5-year warranty (varies by region, click here for details.)
Ultimate Cooling Combo: Fans and Coolers
Combining Cool-Space evaporative coolers with Big Ass fans delivers a powerhouse cooling effect that's second to none.
When you pair your Cool-Space coolers with our industrial overhead fans, cold air is distributed throughout your facility.
When used in tandem with overhead fans, Cool-Space coolers provide maximum cooling and coverage, silently delivering comfort and energy savings to your facility without costly A/C use.
Leading the Way with Innovative Cooling Media
Cool-Space 300 evaporative coolers utilize our innovative cooling media that's GreenGuard Gold-certified and made from 8-inch (203-mm) thick, cross-corrugated, angle-fluted formulated cellulose to optimize cooling and energy efficiency. Cool-Space provides the cooling power you need while preventing problematic algae growth with a thermosetting resin coating standard on all cooling media. The unique design keeps dirt and particles from penetrating the substrate, so you get smooth, reliable cooling every time you switch on your Cool-Space cooler.
Fill 'Er Up and Forget It
With Cool-Space, there's no hunting for fancy, specialized fittings or hoses. Simply fill your evaporative cooler with a standard garden hose for the ultimate in portable cooling solutions anywhere you need. Our large, internal reservoirs ensure hours of carefree operation without being connected to a water source.
Affordable Evaporative Coolers with Popular Features
Cool-Space 300 supplies the cooling power you need and the features you want, all at a price that works for your budget.
Quickly cool indoor and outdoor spaces by up to 33 °F (18 °C)
Variable-speed controls
Four locking swivel casters
Automatic low-water shutoff
Easily accessible drain plug
Float valve to regulate water flow
Cord wrap for easy portability and storage
UV-resistant, roto-molded, polyethylene housing
10-ft (3-m) ground fault-protected power cord fits into standard electrical outlet
Fast evaporative cooler capabilities for up to 1,200 square feet (110 square meters)
SpecLab® Custom Airflow Analysis
Our proprietary SpecLab software uses 3D computational fluid dynamics (CFD) to simulate our fans' airflow in your space, giving you an accurate look at our fans' performance before you buy.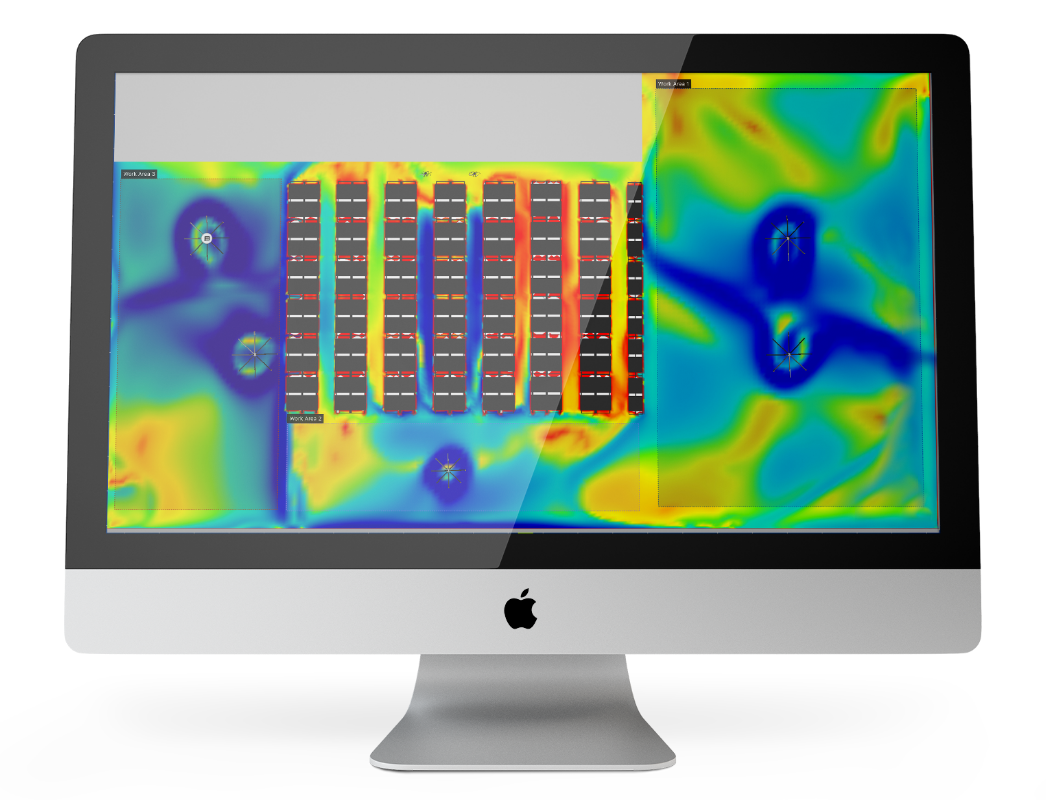 Bring the Breeze To Your Space
Getting beat down by extreme heat? It's time to upgrade to a Cool-Space evaporative cooler! Take the first step by contacting a Big Ass Fans cooling expert to discuss your cooling needs, or get a risk-free custom quote. Call 877-244-3267 to talk to an airflow expert today.