CUSTOM COMFORT
Two heater types to meet your facility's unique needs.
FAN SYNERGY
Pairs perfectly with HVLS fans to prevent heat loss.
DURABLE BUILD
High-quality construction for longevity and limited maintenance.
PROVEN RESULTS
Year-round comfort increases worker safety, productivity, and retention.
BIG ASS FANS INFRARED HEATER
Featuring the most energy-efficient type of spot heating technology, Big Ass Fans Infrared Heaters warm occupants and objects directly.
BIG ASS FANS UNIT HEATER
Energy efficient and aesthetically pleasing, Big Ass Fans Unit Heaters blow warm air throughout your facility, creating a natural synergy with HVLS fans.
TIME FOR AN UPGRADE
Have an off-brand fan that can't get the job done? With our trade-up program, we'll give you credit for that "other" heater when you upgrade to an authentic Big Ass Fans product.
ACHIEVING MAXIMUM EFFICIENCY
Infrared heaters are the most effective way to warm concentrated areas where workers operate, such as a loading dock or work station. Unit heaters are best for warming large volumes of open air and heating around line-of-sight obstructions like racking. Many facilities benefit from a custom combination of these two types of heaters to deliver the comfort their workers need.
WHY PAIR FANS AND HEATERS?
The most energy- and cost-efficient solution to keeping people comfortable year round is combining Big Ass heaters and HVLS fans. By destratifying any heat that rises up from our infrared or unit heaters back to the ground level, you're maximizing energy savings while keeping employees productive, safe, and comfortable.
Infrared and unit heaters only
HVLS fans and heaters together
SpecLab® Custom Airflow Analysis
Our proprietary SpecLab software uses 3D computational fluid dynamics (CFD) to simulate our fans' airflow in your space, giving you an accurate look at our fans' performance before you buy.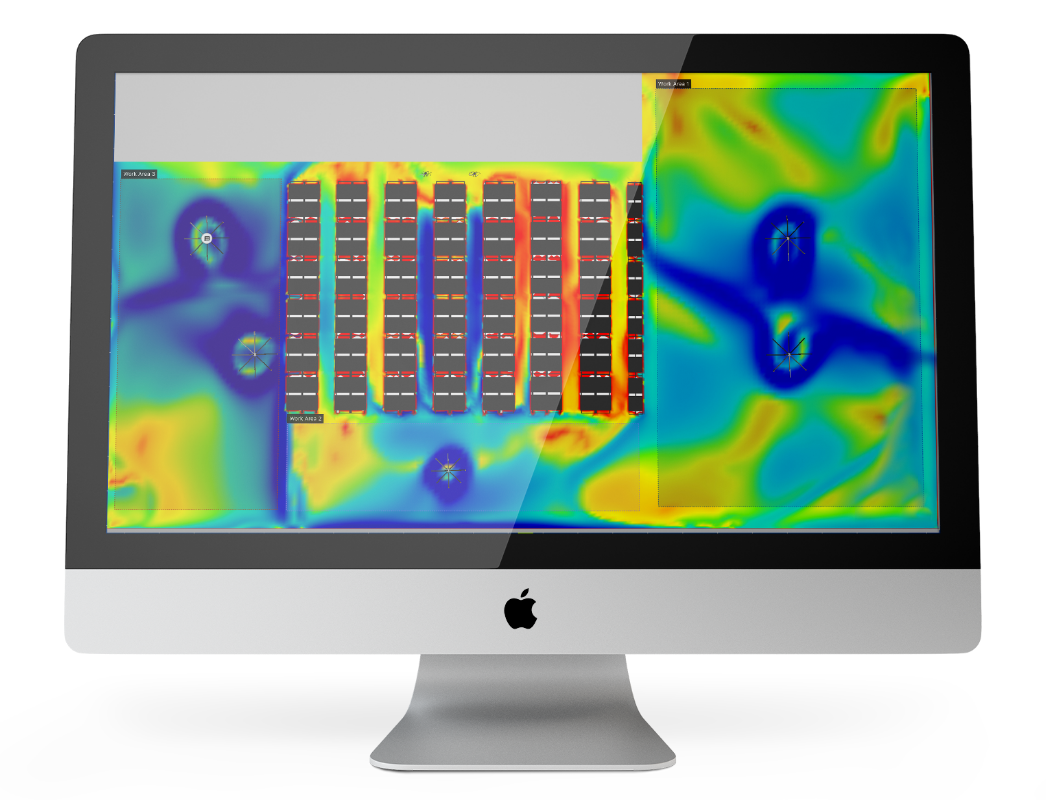 Don't Let Cold Weather Slow You Down
Stop discomfort and productivity loss with a heating system from Big Ass Fans. Call 844-924-4277 today to get started on your year-round comfort solution with a free, custom quote from our experts.