We put this fan on a pedestal because it really is that great—thanks to its sleek design, patented airflow control, and high-tech facility integrations. Featuring a range of diameter options, variable speed controls, and an optional motion detector that makes sure the fan is only running when it should be, AirEye is the smart, versatile choice for precisely targeted airflow. Plus, its quiet EC motor is up to 50% more powerful and more efficient than its off-the-shelf imitators. Choose from multiple mounting options to get a custom fit for your unique space.
Multiple diameter sizes available: 20-, 24-, 30- and 36-inch (51, 61, 76, and 91 cm)
Occupancy sensor available for efficient, hands-off operation
Quiet operation
OSHA-compliant fan screen
Comes in standard Powerfoil Yellow or Midnight Black
Pedestal, wall, I-beam, C-channel, and swivel arm mounting options
BAFCon option to connect multiple fans to a single touch-screen control
3 precision-balanced airfoils for optimal airflow
50% more CFM airflow per watt than basic induction motors
TIME FOR AN UPGRADE
Have an off-brand fan that can't get the job done? With our trade-up program, we'll give you credit for that "other" fan when you upgrade to an authentic Big Ass Fans product.
Sync Eight Fans with BAFCon
Think of it like this: You're the rockstar, and your AirEye fans are the crowd doing the wave in perfect sync. Using our intuitive BAFCon controller, you can alter the speed of up to eight AirEye fans for a full-facility cooling operation. If you already have a BMS you love, no worries: BAFCon allows you to sync your AirEyes with Modbus, BACnet, or 0-10 V protocols
AirEye requires Multi-Fan Kit for BAFCon compatibility.
The Fan that Can Read the Room
You already have enough to think about, which is why we invented smart pedestal fans like AirEye.
Using an infrared motion sensor, it turns on when people are working and shuts off to conserve energy when there's no one there to cool. With a massive cooling range of up to 40 ft (2.2 m), its adjustable lock knob lets you aim the sensor where airflow is needed most. Wondering what your fans are up to? Two status LEDs display AirEye's power and motion-detection activity. And when fall comes and the heat dies down, try automated seasonal modes for added efficiency. Using SmartSense technology, your fans will only run when they need to!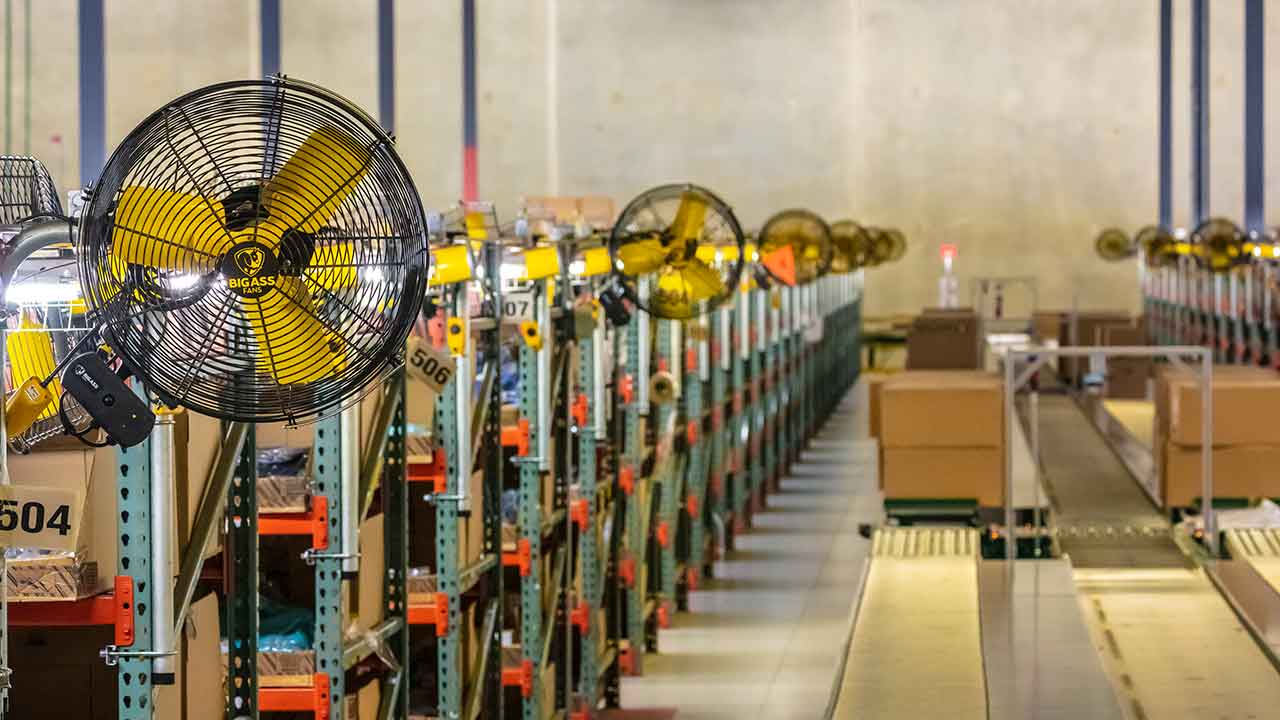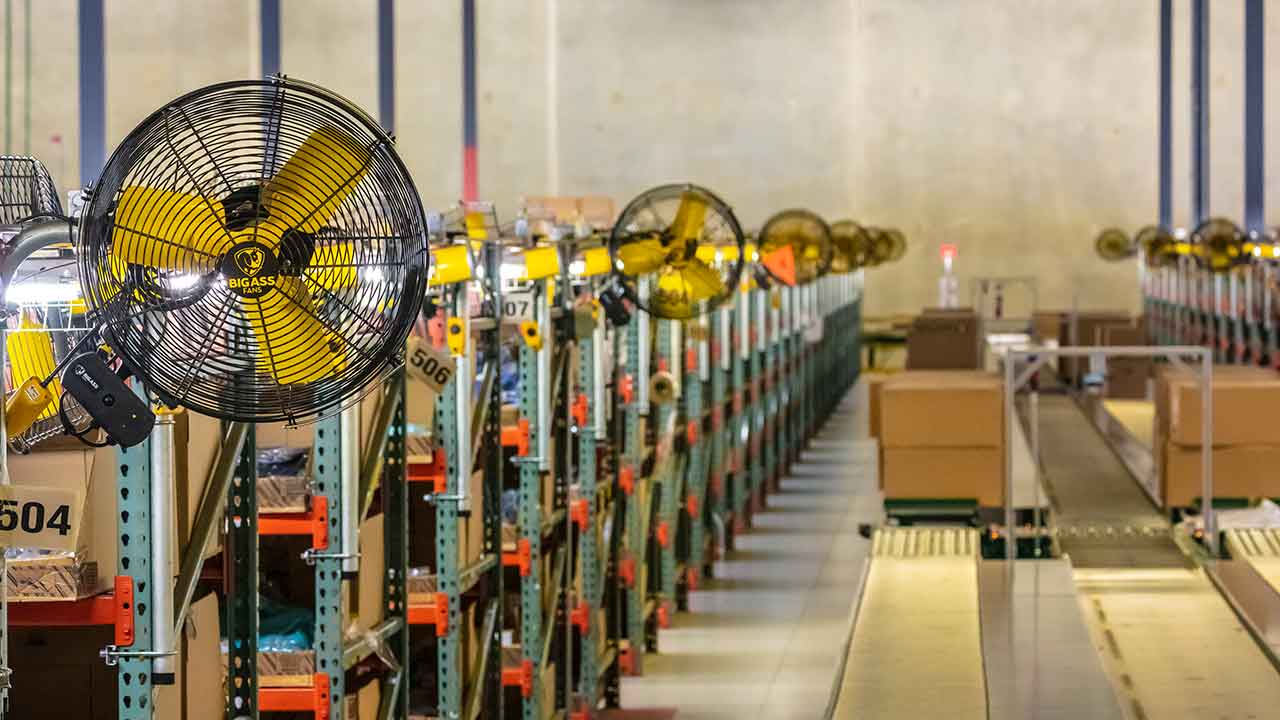 Brawn Meets Brains
Yes, it's one of the smartest fans around—but AirEye also produces 50% more airflow with 50% greater efficiency than typical high-speed directional fans. Its permanent-magnet EC motor runs much cooler than standard induction motors, wasting no energy and ensuring a longer motor life.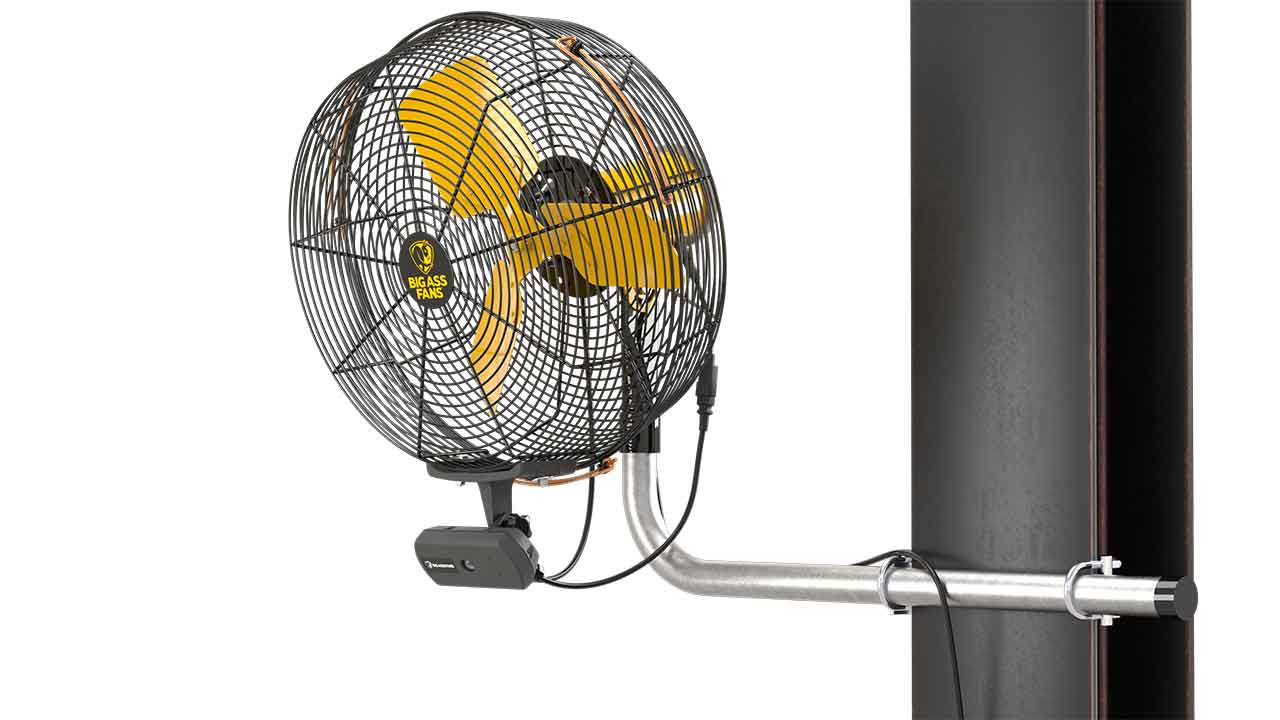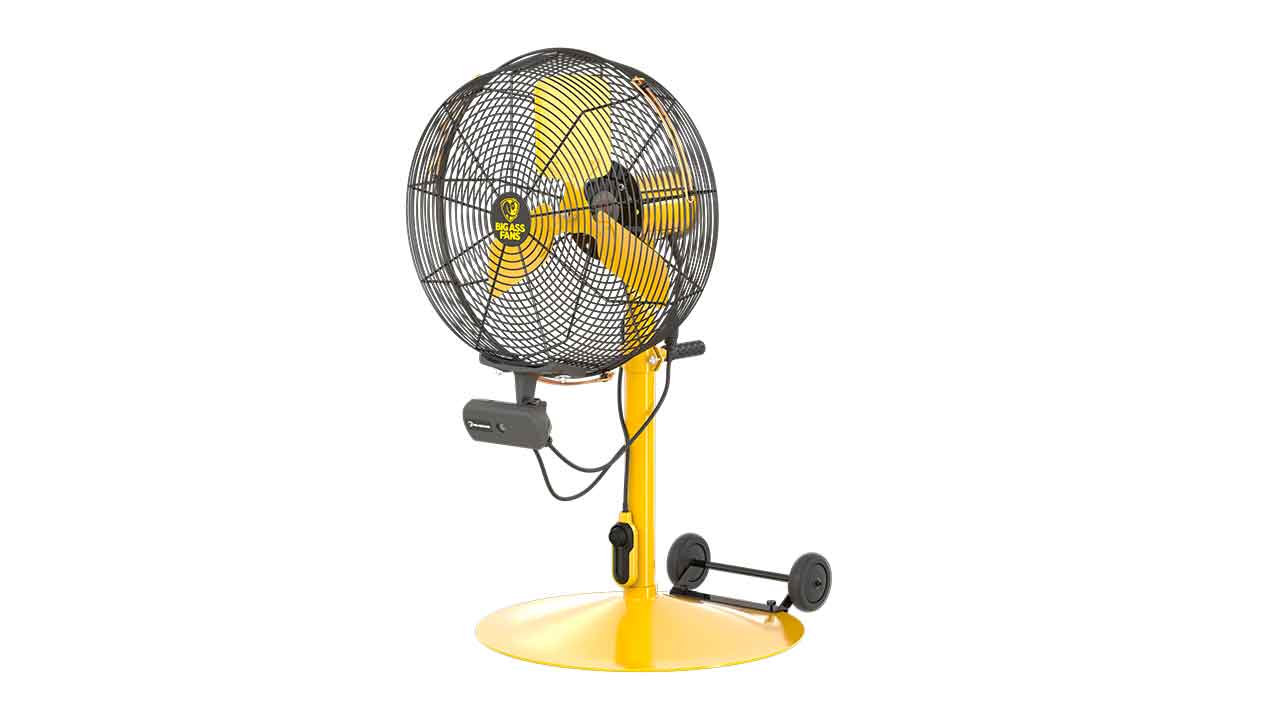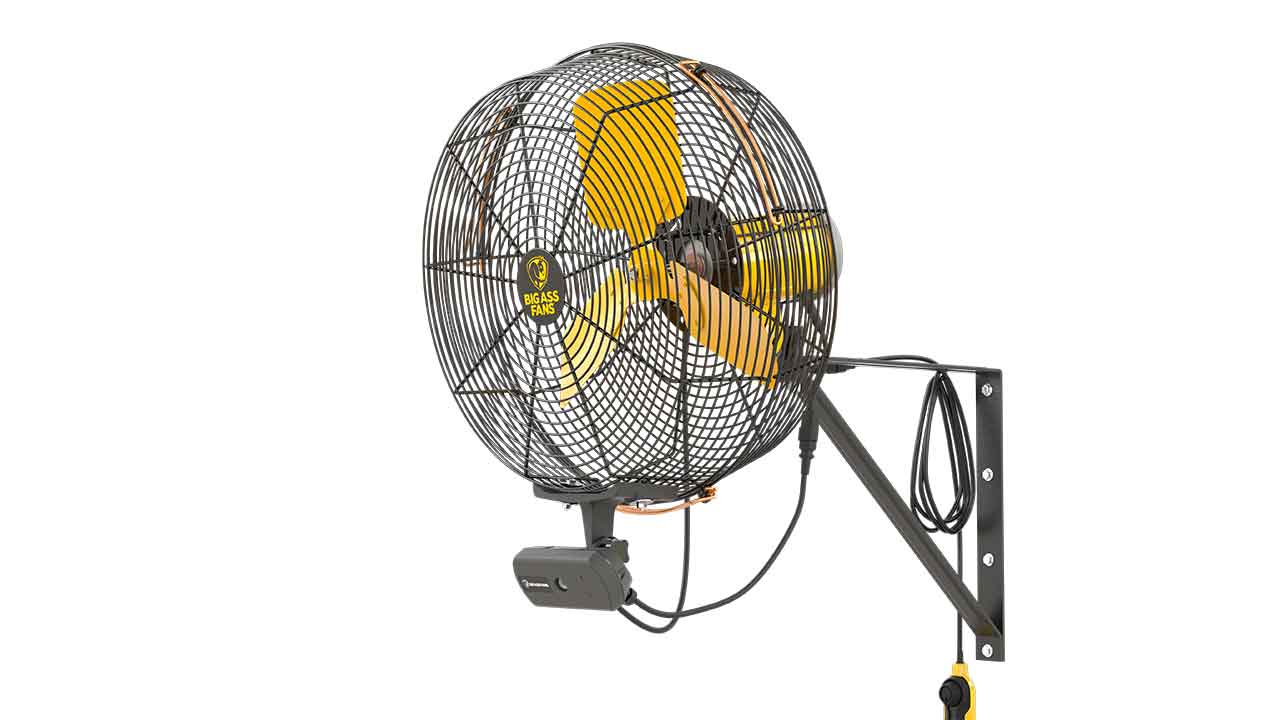 Mix and Match Mounts
Can't decide on the right fan? Good news: Our top-of-the-line, energy-efficient directional fan provides a wide range of options to meet your airflow needs, even in narrow spaces and aisles.
Portable pedestal directional fan
Commercial-grade wall fan
I-beam mounted directional fan
C-channel mounted directional fan
Swivel arm mount fan
Motion sensor wall fan
BMS fan system component
Bluetooth controlled wall fan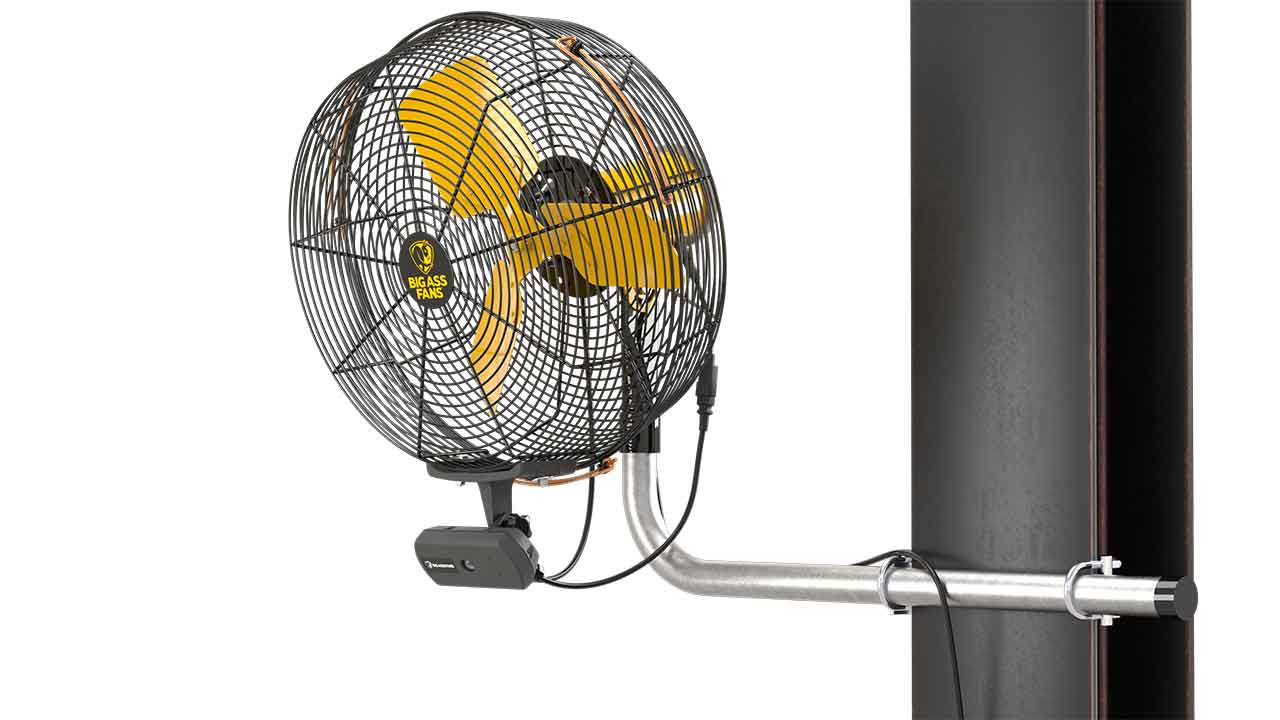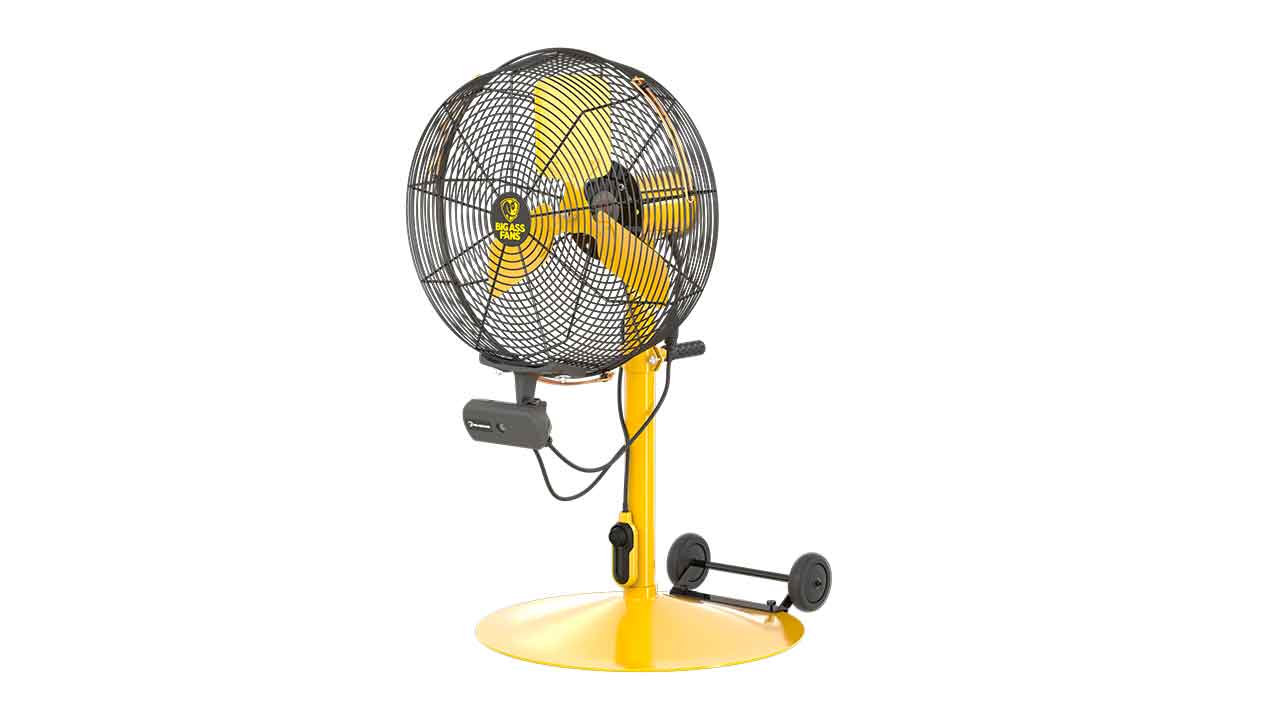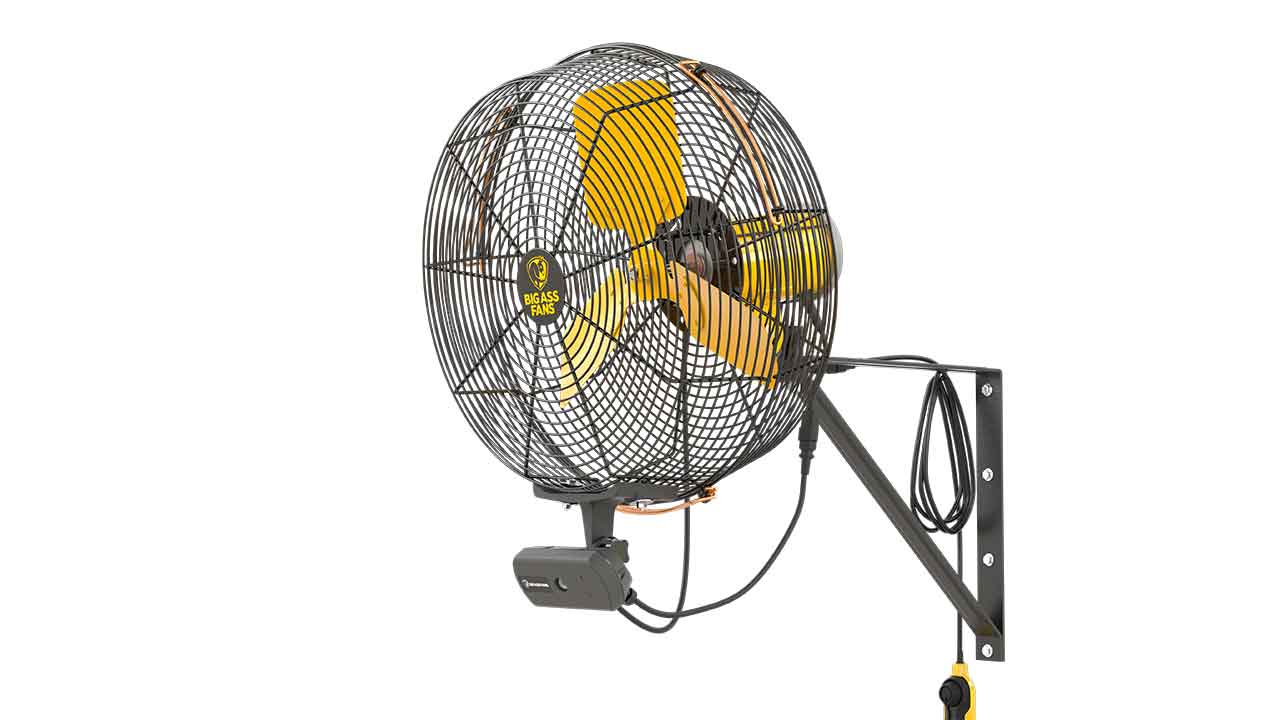 Take it Outside!
Rain, shine or bathtime—AirEye is ready for it all! Its IPX5 wet-rated for indoor/outdoor use in dusty, soggy, or rugged environments. And if it gets dirty, go ahead and spray it down!
Superior Coverage and Support
Unrivaled Warranty
Your Big Ass Fan is built to last. But in the unlikely event that yours isn't operating like it's supposed to, AirEye is under a 5-year warranty. Depending on our expert recommendation, we'll repair, replace, or refund your fan for no cost to you. The best part? We handle all warranties without redirecting you to component manufacturers. We make it, we sell it, we install it and we guarantee it.
World-Class Customer Service
Big Ass Fans is the industry leader in airflow technology, design, and production. Exceptional products require exceptional service, even after the sale. Our friendly, knowledgeable customer service team is here to help you, every step of the way. Each and every Big Ass Fans product comes with our world-class customer service, should you need any assistance before, during, and after your purchase.
Set Your Sights on AirEye
When you need a durable pedestal fan that can do it all, you need AirEye. Buy online today, or find a custom solution for your space by chatting with one of our airflow experts!